WebMenu's Top 5 listings
HELP US BUILD WEBMENU.COM! FREE TOP 5 LISTING
WebMenu.com will place your company in the number one position in the WebMenu.com search result thereby giving your company FREE advertisements in our LOCAL service. This TOP 5 service randomly rotates your company listing providing advertisers with the best possible results. You choose what's best for your company! LOCAL Listings gives your company an advertising advantage and benefit. NO Cost - Easy to setup - Administrative login - Real time log reports - Marketing tools and much more. Setup Top 5 Now: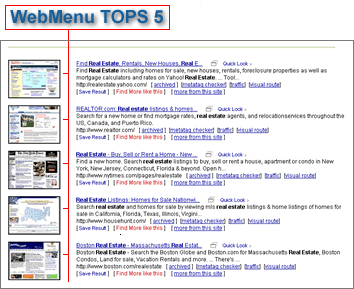 Live Local Demo - Try the following terms:
Bank | Apple | Cars | Work from home
Call WebMenu Now

1 (855) WEBMENU Toll Free USA & Canada
Requirements:
You must be the owner, manager or marketing person.
Your search term must be relevant to your business.
Setup Top 5 Now:
Call WebMenu Now

WebRTC