WebMenu's New LOCAL Business Search
LOCAL POSITIONS FREE TO ALL ESTABLISHED BUSINESSES INCLUDES CLICK-TO-CALL
WebMenu will place your company in the number one position in the WebMenu search result thereby giving your company FREE advertisements in our LOCAL service. This TOPS service randomly rotates your company listing providing advertisers with the best possible results. These highly sought after positions are sold at a predetermined fixed price by other companies or in a dynamic Pay-Per-Click environment. You choose what's best for your company! LOCAL Listings gives your company an advertising advantage and benefit. NO Cost - Easy to setup - Administrative login - Real time log reports - Marketing tools and much more. See sample below: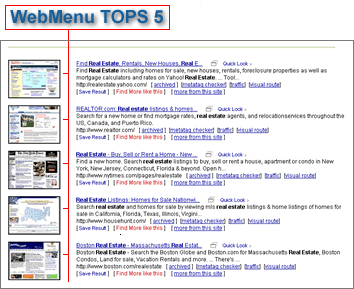 Live Local Demo - Try the following terms:
Call WebMenu Now (Click-2-Call) or dial (855) WEBMENU Toll Free USA & Canada
Requirement:
Your company must be an establish business.
Search term must be relevant to you business.


You agree to tell 2 companies you know about WebMenu and it's FREE service to maintain your position in the TOPS service.
Call WebMenu Now (Click-2-Call) or dial (855) WEBMENU Toll Free USA & Canada